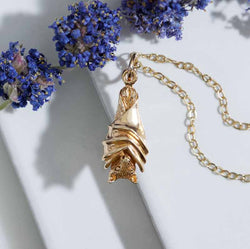 Witch's Way Craft
Bronze Hanging Bat Necklace with Gold Fill 18 Inch Chain
Adorable bronze hanging bat necklaces with gold fill 18 inch chain for those who like to flaunt their darker side. With her wings wrapped around herself like a cloak, this little bat is taking a long deserved rest. This bat charm is lovely from all sides - the ribbed wings wrap from front to back, and she has a sweet face with a long nose and pointy ears.
Due to their keen senses, bats symbolize intuition, dreams, and visions to many cultures. The little batties would make great Halloween jewelry, but why wait?
Comes on a simple gold fill 18" cable chain with spring ring clasp. The bronze bat charm measures 19x8mm, excluding jumprings. 
Bronze used  is a high-quality Italian alloy of copper and tin that contains an anti-tarnish compound which delays, but does not eliminate, eventual oxidation.