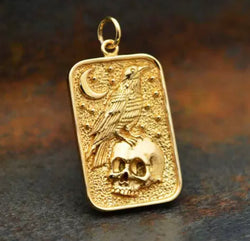 Witch's Way Craft
Bronze Skull and Raven Pendant 29x15mm
This poetic bronze skull and raven pendant tells the story of loss, transformation, and hope. While the raven is associated with darkness, death, and shapeshifting, it also connotes intelligence and bravery. Pairing ravens with human skulls goes back centuries when myth and epic poems bolstered the courage of men going into battle. In Norse mythology, Odin's daughters, the valkyries, taking the form of ravens fly to battlefields to choose who will die and who will live. As ravens, the valkyries usher the fallen warriors into Valhalla to be honored forever in the afterlife.
While our purposes may be less heroic, we may still wear this raven moon skull pendant as a reminder to live a life of purpose, meaning, and love, and one that prepares us for whatever other realm awaits us.
Our bronze is a high-quality Italian alloy of copper and tin that contains an anti-tarnish compound which delays, but does not eliminate, eventual oxidation.