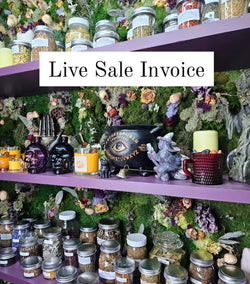 Witch's Way Craft
@tamara 11/16/2023 Live Sale Invoice
Please check this invoice thoroughly for errors as we are humans and may make mistakes!
Invoice is due by TONIGHT Friday 11/17/2023 @ 11:59 PM EST- non payment will result in blocking. All claims are final. Please be sure to check out asap ❤ thank you
HOW TO KEEP YOUR BOX OPEN/HOLD SHIPPING
HELD BOXES WILL SHIP IN DECEMBER 2023! We do NOT hold more than 30 days.
CLICK THIS LINK FOR THE ORDER HOLD LISTING
PLEASE NOTE YOU MUST STILL PAY YOUR INVOICE TO HAVE YOUR ORDERS HELD THIS IS NOT A WAY TO DEFER PAYMENT.
Items Claimed: 
Sterling signet sword ring size 9 10% off $40.50
Green amber sea horse pendant $28 $3 off = $25
Amber mermaid pendant $150
Green amber bracelet $40 10% off = $37
Golden plate amber dragonfly bracelet $35 10% off $31.50
Golden plate LARGE amber circle bracelet $88 10% off $79.20
Hammered moon & star ring size 9 $20 10% off = $18
Total: $381.20
+ shipping calculated at checkout
WE WILL REFUND ANY DOUBLE PAID SHIPPING CHARGES FROM LIVE SALE INVOICES & WEB ORDERS. ALL SHIPPING OVERAGES OVER $2 ARE REFUNDED ALWAYS.
Thank you!!!
Shop policies here: https://witchswaycraft.com/pages/shop-policies
Shop FAQs here: https://witchswaycraft.com/pages/faqs
Candle safety here: https://witchswaycraft.com/pages/candle-safety-instructions