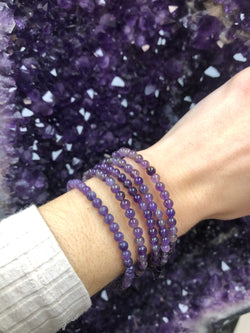 Witch's Way Craft
Amethyst Bracelet - 4mm
Lovely genuine Amethyst bracelet. Each bead is 4mm in diameter and bracelet stretches to fit most sizes.
Listing is for a single bracelet.
Amethyst has healing powers to help with physical ailments, emotional issues, and in Energy Healing and Chakra balancing. Amethyst crystal therapies are primarily associated with physical ailments of the nervous system, the curing of nightmares and insomnia, and balancing the crown chakra.
Amethyst is a natural tranquillizer, it relieves stress and strain, soothes irritability, balances mood swings, dispels anger, rage, fear and anxiety. Alleviates sadness and grief, and dissolves negativity.