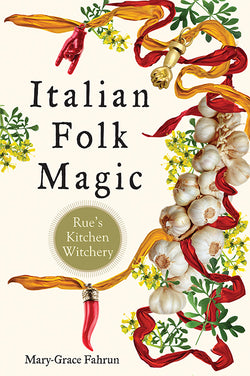 Witch's Way Craft
Italian Folk Magic by Mary-Grace Fahrum
In this fascinating journey through the magical, folkloric, and healing traditions of Italy the reader learns uniquely Italian methods of magical protection and divination and spells for love, sex, control, and revenge.

Italian Folk Magic contains:
magical and religious rituals
prayers
divination techniques
crafting
blessing rituals
witchcraft

The author also explores the evil eye, known as malocchio in Italian, explaining what it is, where it comes from, and, crucially, how to get rid of it.

This book can help Italians regain their magical heritage, but Italian folk magic is a beautiful, powerful, and effective magical tradition that is accessible to anyone who wants to learn it.